Even Now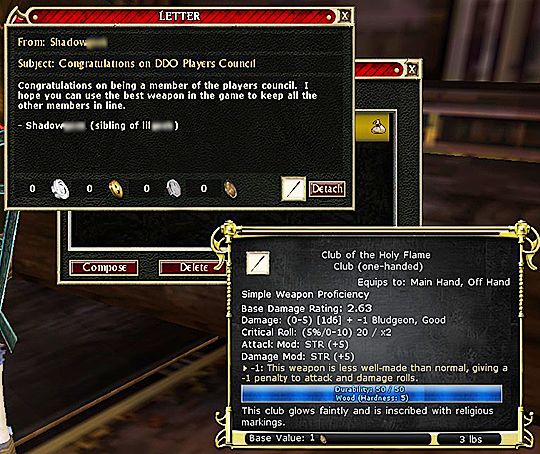 If any members of the Players Council try to give me any problems, I'm ready for 'em. See, my DDO friends take good care of me.
At least a few times a week, I'll log in to find that someone's sent me Potions of Wonder for Acanthia's ever-growing collection, or hair dyes (especially sage). Sadie sends me Tasty Hams, just because (I think she's hoping I'll fry them up into bacon in the airship wok).
But the longest-standing wacky gift tradition I have is with some members of Monty's. I don't even remember any more just how it got started, but a few of them – Geek in particular – like to send me Clubs of the Holy Flame. Best dang weapon in the game! I occasionally reciprocate by passing back a few Clubs to them.
It had been a while since anyone had sent me a Club, but tonight…
View original post 19 more words